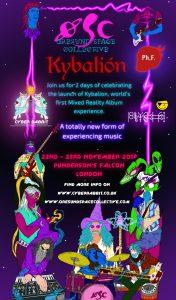 The Kybalion London Psych Out  (https://www.batuhanbintas.com/kybalion)
Address: 23 Pundersons Gardens, London, E2 9OG, United Kingdom
In November 2018, we released the Kybalion multimedia virtual reality experience with Space Rock Productions as a collaboration with Cyber Rabbit in the UK. To commemorate the completion of the Kybalion Experience, we are holding two exclusive concerts in London (near Bethnal Green Station). Address is on the ticket which will be mailed to you.
The concerts will be on Friday Nov 22nd and Saturday Nov 23rd. 80% of the band that recorded the Kybalion record will perform two long concerts. It is a bring your own drinks event, there will be no bar. This might change though. I will keep you posted. The event is limited to 100 tickets each day.
All tickets purchased after Nov 15th will be picked up at the door and not mailed.  Limited tickets will be available at the door. 
Schedule Nov 22nd
18:30             Doors Open
1930              Batu Presents the Kybalion experience
2030              ØSC Set I
22                  ØSC Set II
23-24             Event Ends
Nov 23rd
19                   Doors Open
2000               ØSC Set I
22                   ØSC Set II
23-24             Event Ends
The band for this event was: Hasse (bass), Tim (Drums), Vince (Guitar), Jonathan (guitar, Violin), Mogens (synths), Dr Space (synths) plus Alex Pym and Jon Egan (Dream Machine).
Http://cyberrabbit.co.uk (our host for the evening)  Check out the latest version of the software using a Kybalion gatefold poster!
https://www.instagram.com/p/B0g4-c3AMe6/?fbclid=IwAR0vOEbRBkoYJBd_crbYjAnv-1lf034bQSqVo60a2TJ5vZ3vw0fd9vVY9os