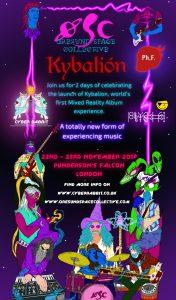 Session 150-London Kybalion Psych Out, Punderson's Falcon, London, UK Nov 22-23rd, 2019

Nov 21st
Anyway, it was a hell journey as my flight was late and it was about 1815 by the time we arrived to Pundersons Falcon to meet up with the others. Great to see everyone when we walked in the door! Andy was there setting up the drums and bass gear for us and the mood was great but people were tired and hungry, except Hasse and Jonathan who arrived the day before! Sue and I still need to go check in to our place so we agreed we would do this and then we would all go eat!
Our place Bethnal Green Rooms (NEVER EVER STAY HERE!) was a huge hassle to even get into our room and get the key. The lady who answered the door only spoke Spanish so it was a huge struggle. She spoke so fast. She asked for code and we were never sent a code. We were sent a message at 3 in the morning that we had to bring our own towels, but it was too late, we had leaf home already, even though it says on Booking.com they provide towels. There was no code, no one answered the phone at the number provided on my booking reference sheet so we sat in the cold on the street trying to get in. It finally worked and we ended up at the top floor in a shitty room. Blood on the duvet cover, nasty shades that don't open, dirty ventilator, rat and mouse poison in the corner and the street noise it was like there were no windows at all. At least it was warm.
Anyway, we all went to eat at Brick Lane at Aladdin and had an ok meal with some beers but it was so loud in this place you had trouble talking to each other. My Naga chicken was excellent but Sue's Dhansak chicken was not good at all. Mogens, Tim and Jonathan had the veggie Thali and said it was ok but not very spiced. We ended up going back to our place and the others to Batu's. The plan, which we should have stuck to, was to set up and soundcheck tonight so we could deal with any issues if we had any but we put this off til tomorrow (and of course we had a lot of problems and it was stressful).
Nov 22nd
We had a terrible night sleep as it was so noisy and the bed was springs were sticking up through the mattress. IT was so uncomfortable and the street noise. Police sirens.. just a nightmare..
We met up with the guys after lunch and were trying to sort out another guitar amp for Jonathan as Andy had brought a really old 15 watt Fender and it was not really very good at all. We called places to try to rent one but it was too expensive. We decided to just try to make this work. We had no sound on the PA on the left side and the power supply is very old with old school speaker wire connections not ¼ jack or XLR.. Anyway, Jiri and Mogens fixed it and it mostly worked fine for the shows.
I got some food at a place up the street and Sue would come down later. It was nearly 18 and the doors were to open soon and still no sign of Vince. He was supposed to be here at 16. By 1830 there was still no people at all. Turns out the tickets have printed on it doors at 19. It was supposed to be 18. This is still very early for people to go out. Anyway, visuals are working. Some cool lights but not that special really. Soundcheck never really happened but we set up and all had sound and would adjust along the way. Vince did make it and we set up and all is good.
Not many people showed up. We had about 30 presale tickets, sold 3 at the door and Batu's friends all just came in as they liked as I expected. It was about 45 people total with the bands. We need 110 total to pay our expenses.
Anyway, Batu gave a presentation starting about 1930 about the Kybalion VR experience. IT was not a very good presentation. Totally unfocused. I hope people are impressed. A few industry people were there like James who sponsored the VR glasses for the smartphones and another guy who works for a big VR company or sorts.
We started about 2030 and played about 70 mins and took a break. As usually happens we get too loud and Mogens and I can't hear (there were no monitors set up). This also annoyed the neighbors and the security people came from the building next door and said it was too loud. We closed the curtains and in the 2nd set really tried to be less loud and this was great. We played better as well. 2nd set was about 90mins. I had expected and wanted to play longer but reality is in London, it is hard to get around after 11PM. We had a great response from the people who came. Some of our real die hard fans (Malcolm, Gavin, Richard, Robert, etc..) and David Graham, our artist who has done many covers for us, I finally got to meet him!! IT was a great night but I was very tired when we left around 12.   Just a bit sad that no people show up for an event like this that we spent months promoting. We sold 195£ in shirts and CDs and LPs..
Hear the show below:
https://archive.org/details/OSC2019-11-22.FLAC